The Pacific Planetarium Association is a non-profit organization with members mostly from planetariums in the western states of Alaska, Arizona, California, Hawaii, Idaho, Nevada, Oregon, Washington.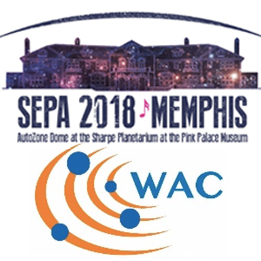 Upcoming PPA events: 
2018 May 25 (Friday) at 3:30 pm PDT — Pacific Planetarium Seminar. "Developing and Implementing NGSS-aligned, Live, Interactive School Shows" by Mary Holt, Senior Planetarium Presenter at California Academy of Sciences in San Francisco. The presentation will be about the process at the California Academy of Sciences to develop new school shows, strategies for how they give the shows, and how the shows have been received by students and teachers over the last couple years. To attend, point browser to https://zoom.us/j/9082206531. For more details on how to connect,
see the PPA Zoom Meetings page. 
2018 – Joint SEPA/WAC Conference

, 

June 5 – 9, 2018 at

 the AutoZone Dome in the Sharpe Planetarium at The Pink Palace Museum, Memphis TN. The PPA Business meeting will be held Friday June 8 from 9-11am CDT (7-9am PDT) and we will have our PPA Zoom meeting platform running so those who cannot be in Memphis have the opportunity to be at the PPA business meeting.
2018 July 27 — Pacific Planetarium Seminar, featuring Dave Cuomo, on "Creating a New Live Planetarium Show on Polar Science" via Zoom videoconference. 
You can find the web sites of other planetarium regionals on
the Affiliates page of the International Planetarium Society website. 
For questions about this site email Alan Gould <adgould_-@-_comcast.net> [delete _- and -_ ]